CPL Designations Awarded
The Target Markets Program Administrators Association (TMPAA) recognized 15 individual members for attaining the Certified Programs Leader (CPL) Designation during the 23rd Annual Summit in Scottsdale, AZ.
Members recognized for achieving the Certified Program Leader (CPL) Designation completed and passed 13 required Target University courses and met program and industry experience expectations set out by the Association. The Summit CPL recipients are:
Gene Abbey
Patricia Craig
Margaret A. Curcio
Matthew Curtis
Dana Goettsch
KC Ann Hansen
Melody Huang
Kevin Landers
Juan Carlos Mahfouz
Alyssa Manders
Nirali Patel
Ann Elizabeth Christine Pilotti
Kristen Sorensen
John Mason Varner, Jr.
Bobi Xhaxho
"My involvement with the University and the CPL Designation continues to be a great honor," indicated Greg Thompson, TMPAA Past President and Target University Dean. "All of our CPL recipients demonstrate their mastery with the crucial aspects of successful program administration covered in the required coursework and have a solid resume of work in programs. I am proud to be associated with them all."
The Association's 23rd Annual Summit was attended by nearly 1,500 program business professionals.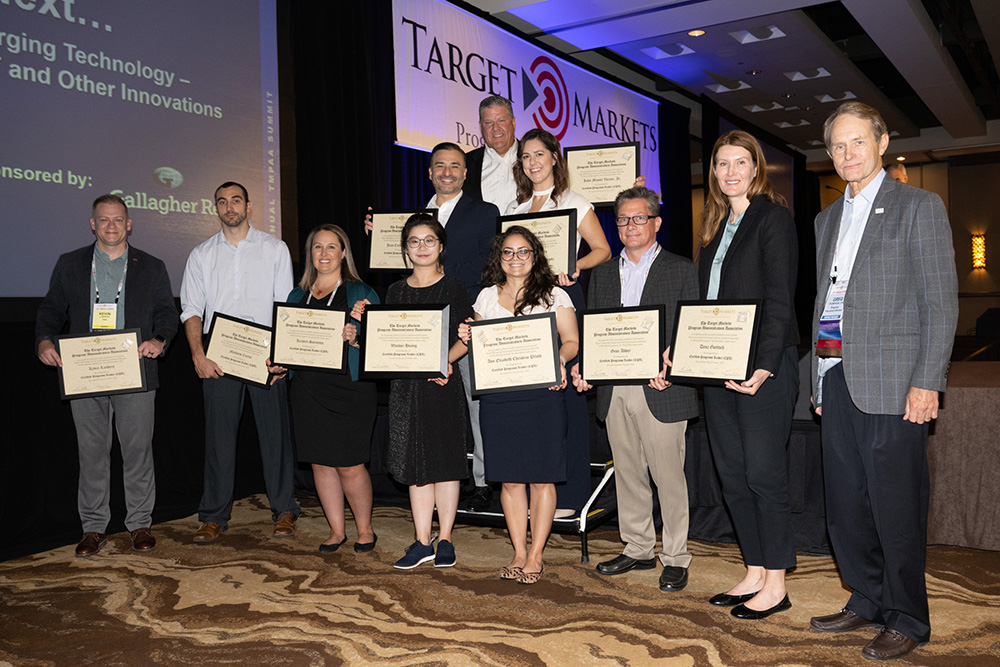 Pictured top row to bottom, left to right: John Varner, Jr., Juan Carlos Mahfouz, Alyssa Manders, Kevin Landers, Matthew Curtis, Kristen Sorensen, Melody Huang, Ann Elizabeth Christine Pilotti, Gene Abbey, Dana Goettsch, and Greg Thompson (Target University Dean).