David Howden, Founder & CEO, Howden Group Holdings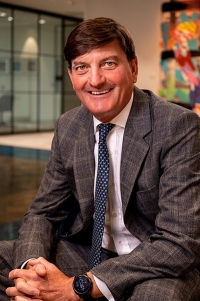 MONDAY, October 17 | 4:00 PM
David Howden founded Howden Group in 1994 as a specialist D&O broker, and from its modest beginnings reaching into Europe, Howden Group is now one of the largest insurance intermediary groups in the world. It has been challenging the status quo for its clients for nearly three decades.

The Group comprises insurance broker Howden and underwriting agency DUAL, and has operations in 45 countries across the US, Europe, Asia Pacific, the Middle East, Africa, and Latin America. Its people are at the heart of its difference, and of its nearly 12,000 employees, approaching one third are shareholders in the business.

In June 2022 the Group announced that Tiger Risk Partners, the reinsurance, capital markets and advisory specialist, would join Howden Group to create a global insurance intermediary with approaching $2bn in revenues, managing premiums of $30bn across retail, specialty and reinsurance broking, capital markets, advisory, and underwriting.

DUAL is driven by a mission to be the underwriting business of choice for brokers, clients and carriers through the provision of deep underwriting expertise and global distribution. In 2021, Align Financial Holdings, the leading US tech-led, independent underwriting manager, joined DUAL to create one of the world's largest international underwriting agencies with $2.4bn GWP. The Group is also the number one delegated binding authority broker to Lloyd's with $1.5bn GWP handled annually.

DUAL's investment in data and technology enables it to deliver over 70 products and services with speed and efficiency to 8,500 broker partners working with over 70 carrier partners worldwide. Established in 1998, today it has over 1,000 people in 19 countries across the Americas, Europe and Asia Pacific, and is Lloyd's largest international coverholder.

When he is not talking insurance, David breeds rare Longhorn cattle, Middle White pigs, Hampshire Down sheep, and racehorses, and has a passion for sustainable and regenerative farming. His love of horses has led him to re-establish Cornbury House Horse Trials during lockdown and to racecourses across the UK and internationally in the hope of accessing the Winner's Circle.