J. Powell Brown, President & Chief Executive Officer, Brown & Brown, Inc.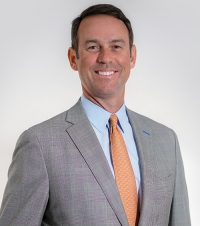 State of the P&C Industry and the Future of Distribution | Monday, May 2 at 4:00 PM
Powell was named President and CEO by the Board of Directors in July 2009. Since that time, Brown & Brown's market cap has grown from $2.6B to $19.9B and our dedicated team has grown from 5,206 to more than 12,000 teammates.
Powell's unwavering focus on strategic expansion, efficient operations, innovation and teammate engagement sets the course for Brown & Brown's more than 12,000 teammates in 350+ locations across the U.S. and select global markets. During his 24-year tenure, Powell has held multiple leadership positions across Brown & Brown's business segments. In 2007, he was named president and appointed to the company's board of directors.
Powell holds the professional designation of Chartered Property Casualty Underwriter (CPCU).
He is a graduate of the University of Florida and holds an MBA from Duke University. He currently sits on the board of directors for the WestRock Company, an international paper and package company, and serves on the finance and nominating and corporate governance committees. He also serves on the board for Camp Boggy Creek, a nonprofit camp for chronically ill children.