Glatfelter Associates Earn New Designations
YORK, Pa – Glatfelter Insurance Group is proud to announce the accomplishments of six associates who recently earned new insurance-related designations.
As an organization dedicated to continued excellence, Glatfelter encourages associates to pursue new insurance or specialized industry designations each year.
The associates completed courses and exams in pursuit of the following professional designations: Associate in Commercial Underwriting (AU), Associate in Claims (AIC), Legal Principles Claim Specialist (LPCS), Casualty Claim Law Associate (CCLA), Associate in Insurance Services (AIS), Associate in Customer Service (ACS) and Associate, Life Management Institute (ALMI). GIG offers congratulations to:
Scott Bankos, CPCU, AAI – New Designation: AU
Adam Findley, CPCU – New Designation: AIC
Ellen Henry, AINS, AIC – New Designation: LPCS
Jason Hilton, LPCS, AIC – New Designation: CCLA
Mackenzie Huber, AINS, AIC – New Designations: AIS, ACS & ALMI
Nicholas Petry, AIC – New Designation: AIS
About Glatfelter Insurance Group - @glatfelterins
Glatfelter Insurance Group (GIG), named one of the Best Places to Work in PA for 14 years running, is one of the largest program managers and insurance brokers in the US with more than 500 associates serving 30,000 clients. An all-lines, full-service insurance broker, GIG markets property, casualty, life, accident and health insurance products and risk management services on both a retail and wholesale specialty basis throughout the country utilizing a network of more than 3,000 independent agents and brokers.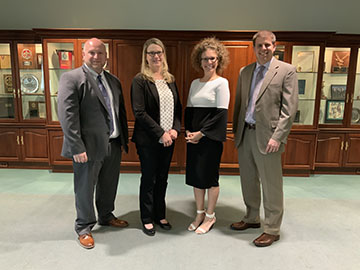 From left to right: Jason Hilton, Ellen Henry, Mackenzie Huber, Scott Bankos

Not pictured: Adam Findley, Nicholas Petry